MILAN – The first black supermodel – Naomi Sims – made headlines on the runways of Halston and Yves Saint Laurent as early as the 1970s. Yet fast forward to a half a century later and women of color are still expected to bring their own foundation and be prepared to do their own hair, to avert an embarrassing disaster. This disappointing reality is just one example of how not very far the fashion industry has come in its quest for true diversity.
Former model Celia Sears, founder of Show Division, a company that provides backstage staff for key shows, is on a mission to change that for good, worldwide.
"It's one of those unspoken truths – if you ask any model of color – each one will have a horror makeup story or a horror hair story. Every… living… one. When you are working with darker skin tones, sometimes, you see women of color and they look grey or have a cadaver-esque color and their undertones weren't taken into consideration," Sears explains. A native of Canada, Sears' success is just one victory that was won during Milan's fashion week that closed September 27, in support of black creatives and spearheaded by black fashion pillars who are pioneering real change across the Italian fashion sector — which for years has been accused of perpetuating a culture of nepotism, elitism and ethnic and cultural homogeneity at the executive level.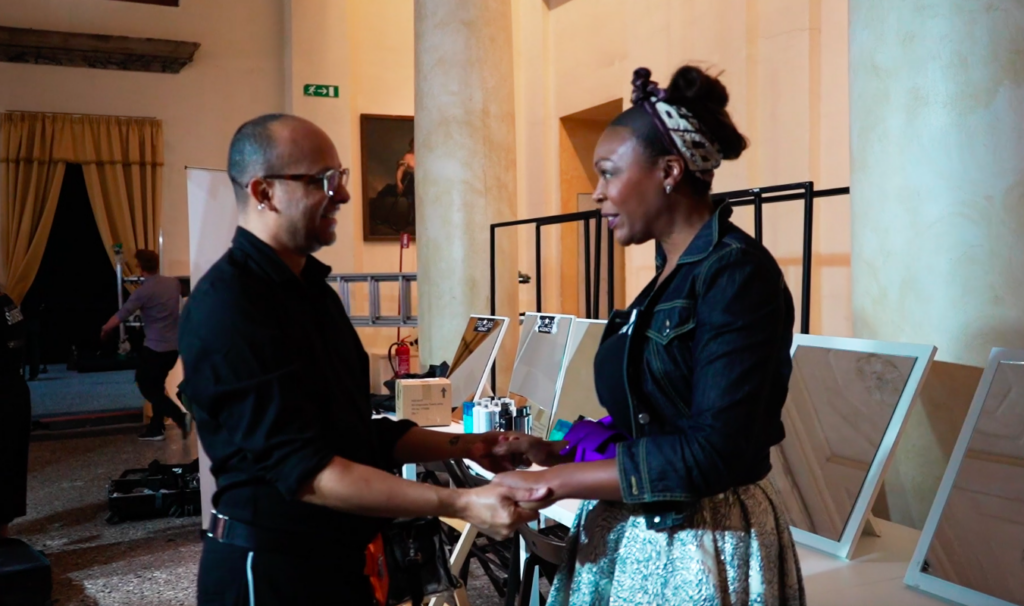 Celia Sears with Show Division Key makeup artist Junior Queiros
For the occasion, Wella and Camera della Moda joined Sears' Show Division in support of a series of workshops for backstage hair and makeup artists. The aim is to train these backstage professionals in working with textured hair and to be able to make-up a variety of skin tones. After the program's first successful season, Sears reached out to the Council of Fashion Designers of America, the British Fashion Council and the La Fédération de la Haute Couture et de la Mode, which have also opened lines of communication to follow in Italy's footsteps.
Video – Courtesy of In Photo Studio
Italy's fashion chamber, Camera della Moda has already incorporated Show Division's initiative into its own manifesto, Sears pointed out.
"It's an ongoing project, hopefully, the first of many. Both the Camera Moda and Wella have committed to this. Going forward, it's all about following up and making actual change," Sears reflected.
For the occasion, Show Division introduced SD PRO HAIR FUNDAMENTALS, a line of specifically formulated products to "Style and Protect Afro textured hair from the extreme conditions encountered backstage".
A proponent of the W.A.M.I. (We Are Made in Italy), Sears also sponsored the backstage preparations for one of Italy's first Afro fashion weeks in 2017.
Italy has a unique story of underrepresentation, which came to the fore during its boom in the 80s, 90s and migrant refugee crisis that endures today.
And while Italy doesn't carry the shame of a history of segregation and slavery, blind insensitivity still endures. In recent years, Italian fashion houses have come under intense scrutiny, after snafus like Gucci and Prada's blackface designs and Dolce & Gabbana's "chopsticks" campaign made headlines — highlighting just how behind the times Italian decision makers actually are.
Sears, along with Afro Fashion Week founder Michelle Ngonmo and designers Stella Jean and Edward Buchanan, is a proponent of WAMI (We Are Made in Italy), an organization that supports generations of black talent who have adopted Italy as their home.
Testament to their mission's success, the consortium's "Fab Five Bridge Builders" event dedicated to BIPOC creatives opened fashion week here with Burundi-Italian Fabiola Manirakiza of Frida-Kiza, Moroccan born Karim Daoudi, Nigerian-born Joy Meribe, Designer Pape Macodou, son of Senegalese diplomats, as well as Cameroon-born designer Claudia Gisèle Ntsama.
Another fab five of Italian-based designers of color Sheetal Shah, Nyny Ryke Goungou, Romy Calzado Celda, Zineb Hazim, and Judith Saint Germain graced a landmark digital cover of Vogue Italia. The quintet took part in the —"Fab 5, We Are Not Just a Trend"—digital runway presentation, directed by Italian-Angolan writer-director Antonio Dikele Distefano and created by WAMI.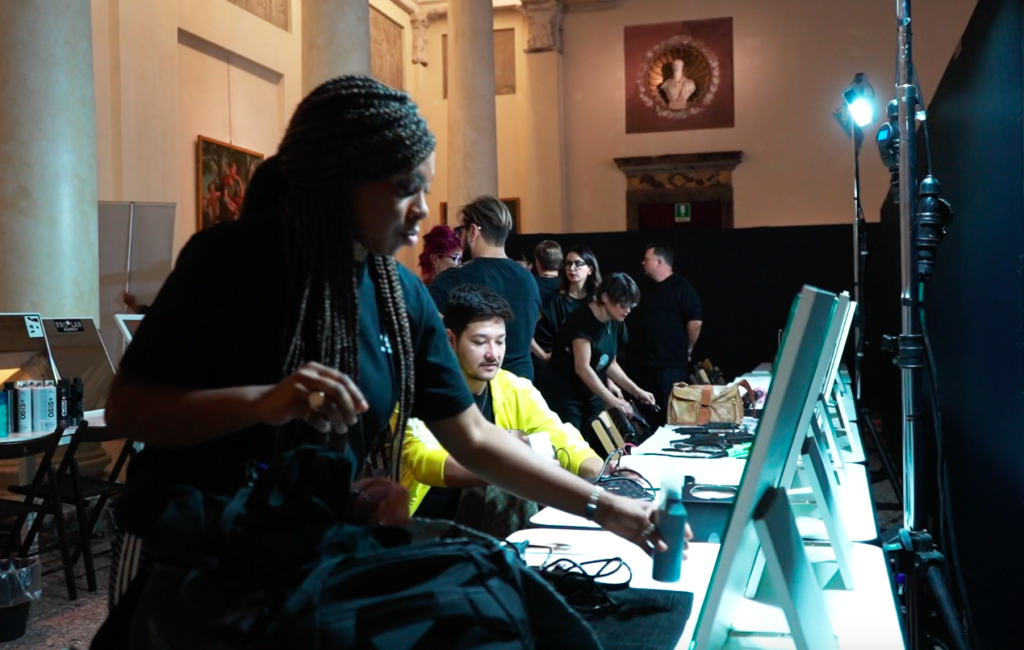 Show Division key hairstylist Amidat Giwa backstage at Stella Jean. Courtesy photo.
Italian designer Jean, who is both Italian and Haitian, told WWD that Italy's fashion industry suffers from "corporate colonialism" and that while the black community's images are in great demand, they simply are not respected at the upper echelons of the sector. "Italian fashion is a representation of a new mix of society, but having that on the cover of magazines and in advertising and on the catwalk does not correspond to a real Black minority presence in the local Italian workforce. We are completely lacking in decision-making roles. Black Italians are not granted access but on the contrary, our physical images are in great demand and widely exploited for promotional purposes."
SD PRO educator Cynthia Nwosu teaching at the Inclusive Backstage Masterclass. Courtesy photo.
Looking back on what was heralded as a successful fashion season for minority creatives, Cameroon-born Ngonmo, who founded Afro Fashion association and Afro Fashion Week Milano in 2015, explained that arriving at this point has been an uphill climb from the start.
"This is the result of a conversation that commenced, after five years of hard work. We are at a starting point."