"It was great to have the opportunity to show SABIRAH to the biggest and most important fashion editors in the world," said the brand's creative director and founder Deborah Latouche, reflecting on the moment Anna Wintour walked through the doors of the latest Fashion Minority Alliance showcase in Milan.
Presenting before the likes of Wintour, global editorial director of Vogue, and Edward Enninful, editor-in-chief of British Vogue & European Editorial Director CondeNast, four Fashion Minority Alliance BIPOC talents, Latouche included, unfurled their autumn/winter 2022/23 with bravura at the #MeetOurDESIGNERS event that took place during the Milan RTW shows on the weekend of 25th February.
Marking a new chapter in Italy's fashion history, Afro Fashion Milan, Italy's Accademia di Lusso and the Fashion Minority Alliance came together in unity to promote Black, Indigenous, People of Color (BIPOC) talent before an international audience of prominent fashion editors, international fashion leaders and buyers. FMA propelled four designers from the United Kingdom and Europe into the limelight, joining Afro Fashion Milan's exhibition of 13 designers of Afro heritage.
This successful team effort is part of a larger plan to chart new opportunities worldwide for individuals who hail from minority backgrounds, especially those who define themselves as BIPOC and individuals who are underrepresented.
Comfy, uptown brand AM:PM London; Moroccan-Swedish designer Anwar Bougroug, known for his colourful leisure wear; and UK pret-a-couture labels Lisou London and Sabirah were among the top FMA talents at the event.
Vogue's Nicole Phelps, and Vogue Italia editorial content head Francesca Ragazzi were also in attendance, as well as many other leaders and creatives from the international fashion community. Fashion Minority Alliance Co-Founder Barbara Kennedy-Brown said: "This partnership is a major step in building a fashion industry that represents society today and gives those who are truly deserving, a seat at the table. For too long, only a privy few have had the opportunity to advance their careers in the upper echelons of the industry and together we can open new doors to talented individuals from underrepresented backgrounds."
Conveying the cruciality of a more diverse Italian fashion industry has been among the top priorities for Italy's Afro Fashion Milan over the last decade. Since 2015, the Italy- and Cameroon-based nonprofit has actively promoted African creative talents. Michelle Ngonmo, founder of Afro Fashion Milan added: "It is a privilege to work with these inspiring creatives — hear their stories, see their aesthetics emerge and have the opportunity to learn from them. We continue to focus on our mission to secure their future and their place in the fashion industry."
Ngonmo has been a major proponent of We Are Made in Italy (WAMI) an organization which is also spearheaded by designers Stella Jean and Edward Buchanan with the aim of highlighting how people of colour are an integral part of the Made in Italy ecosystem.
Last September, WAMI showcased the fashion collections of five female talents based in Italy but hailing from different countries, including Haiti, India and Morocco, among others. The Fab Five Bridge Builders' project was also born from this initiative and was aimed at boosting diversity and multiculturalism within the Italian fashion industry.
In the United Kingdom, the FMA has been championing a similar mission, working with major Fortune 500 companies such as PVH, the holding company for luxury brands Tommy Hilfiger and Calvin Klein, and Amazon. Together with amassing a powerful network of global industry professionals and leaders who are dedicated to charting a more equitable and diverse future by also using the FMA Talent Directory Database and Jobs Board which were both launched in 2020 when Fashion Minority Alliance was founded. With the objective to tactically work with fashion and beauty industry stakeholders to build and foster a more diverse, balanced, and inclusive industry that advances meaningful and long-term equity for BIPOC and marginalised talent, the FMA is currently the official partner of Italy's fashion chamber Camera Moda Nazionale Italiana (CNMI) to forge educational initiatives across all industry areas.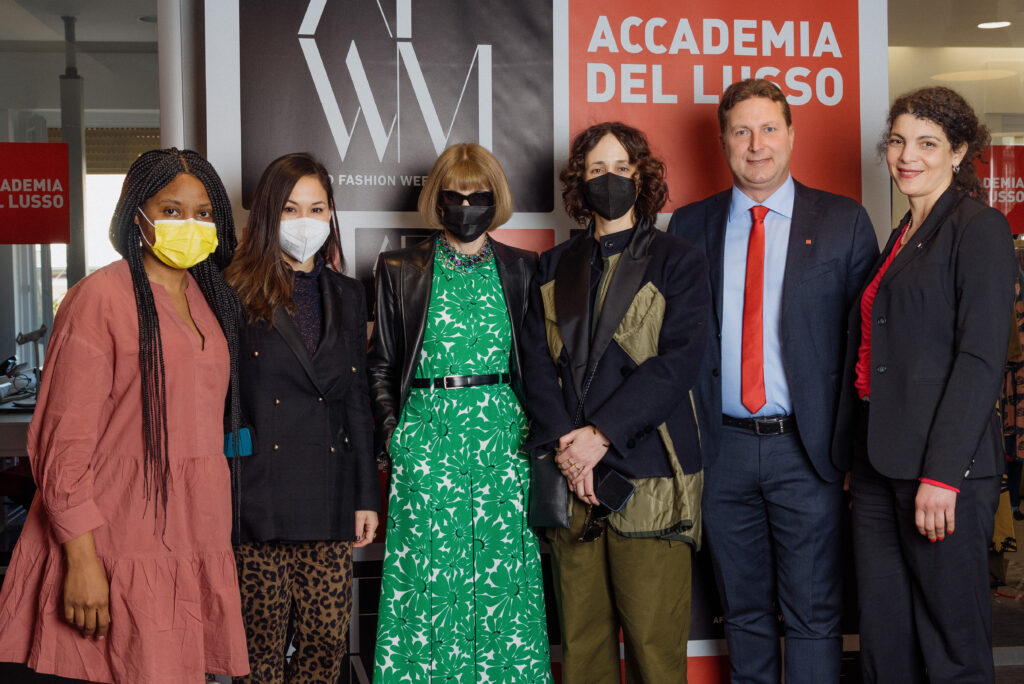 "Being in Milan with the FMA and Afro Fashion Milan was really good for us," Anwar Bougroug, the Marrakech/Stockholm founder and creative director of Bougroug said, looking back on the excitement of the day and his conversation with Wintour and Enninful. "We got exposure in a market that we would otherwise have had great difficulties to reach by ourselves. Without the FMA this would not have been as successful as it turned out to be."
Explore the brands and their latest collections:
FASHION MINORITY ALLIANCE GUEST DESIGNERS
AM:PM LONDON • ANWAR BOUGROUG • LISOU LONDON • SABIRAH
Fab Five Italian Designers
JUDITH BORSETTO •  NYNY RYKE • ROMY CALZADO • SHEETAL SHAH • ZINEB HAZIM
Fab International
DERRICK WANKI • CYBELLE AZAMBOU • GLADYS EPIE • STEFAN DIBOTTY • CINDY MURIELLE TSAGUE • KARIM DAOUDI • PHAN DANG HOANG • VALENTINA POLTRONIERI