Paris, France – On the last evening of the Spring/Summer 2022 haute couture shows in Paris, the African couturier Imane Ayissi was awarded one of France's highest civilian honors. At the closing of his haute couture collection for the season, he fought back tears as he was made a Chevalier de l'Ordre des Arts et des Lettres for his contributions to culture and to fashion. 
This honor was more than 25 years in the making for him personally. The path leading to his talents being recognized was a long one and with some bricks previously lain out by more than one who came before him. Today they all must take part in his happiness. To understand this, one must return 25 years in time. 
In July 1997, the haute couture world was all abuzz with the presentations of the new haute couture collections for Fall/Winter 97/98. That season was so significant that words cannot suffice to express all that was taking place. 
At that time Chanel, Christian Lacroix, Valentino, Torrente, Givenchy, Christian Dior, Paco Rabanne, Jean-Louis Scherrer and Emanuel Ungaro were long-time staples on the official calendar. But new winds were beginning to blow and would usher in not only change, but the first real signs of diversity and inclusion that would finally find resonance 25 years later during the presentation of the aforementioned Spring/Summer 2022 collections. 
That period was insanely energetic. To live it was such a singular experience. You had to be there…!!!  
That season saw three ambitious designers attempting to breakthrough into the closed circle of haute couture for the first time. Among them were the established stars Jean-Paul Gaultier and Thierry Mugler. And making his solo Paris catwalk debut was the unknown, Liberian-born, American couturier Abraham Pelham. This last represented the very essence of today's popular catchphrase and words that the world obsesses over today: SUSTAINABILITY, INCLUSION & DIVERSITY.
Pelham, an extremely skilled technician with a flair for pure lines juxtaposed again dramatic and sudden volumes, is African by birth and became an American by choice. He arrived in Paris at a time when there was near-ZERO diversity and ZERO inclusion on the official haute couture calendar. Only the Japanese superstar Hanae Mori brought the splendor of Asia to this closed circle.  
The American and African couturier hoped to be eventually invited to take part in the official haute couture calendar. He knew that if not him, then one day someone else would. No matter what, he knew that his efforts could put cracks in conservative mental state that did not imagine luxury skills coming from Africa.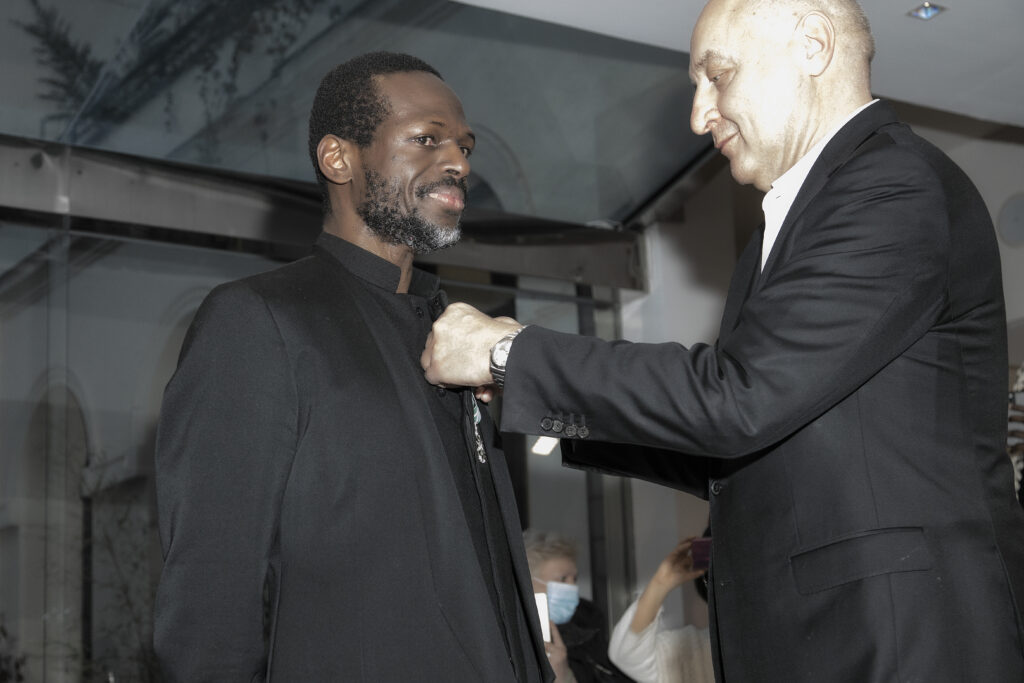 On a beautiful, hot day in July 1997, the legendary model Katoucha opened and closed Abraham Pelham's fashion show at the Hotel d'Evreux at Place Vendôme. Suzy Menkes, the most powerful woman in Europe's fashion scene at that time, attended and sat front row.  She loved what she saw so much that she published a large photo from the Pelham's show on the front page of the International Herald Tribune. 
As the seasons passed, exponentially more and more of the top international press representing nearly every French, American, British, Italian, and other international editions of coveted glossy magazines would populate the front rows of his fashion shows. Each was excited to see what Abraham Pelham would next offer to the most elite women of the world. And no journalist ever made mention in the press of an obvious physical disability, which had relegated Pelham to a wheelchair since childhood. 
Despite his growing clientele and benedictions from the glorified international media, France's Chambre Syndicale de la Haute Couture (the body governing body of haute couture establishment) neither extended a hand to him and nor named him as an invited member of the official calendar. By recognizing Pelham's obvious talents for glamorizing women in couture, such a recognition would have done so much to rebrand the organization as modern, forward-thinking, and inclusive.  Their attitude towards him may be attributed to the "conservative philosophies" of those who ruled over the chambre at that time. 
In March 2002, Halle Berry made history as the first black woman to win an Academy Award for Best Actress for 2001's Monster's Ball. The Elie Saab gown that she wore to collect the statuette was the talk of tinsel town. His instant global name recognition pushed the Chambre Syndicale to immediately open itself to Saab. In July 2002, Saab officially became an invited member and presented his first collection on the official calendar. 
The addition of the Lebanese's ostentatious style brought a much-needed razzle-dazzle to the aging and somewhat stale haute couture calendar. However, it would be another decade before the Chambre Syndicale would move beyond its tokenism and invite other Middle Eastern couturiers to join its ranks.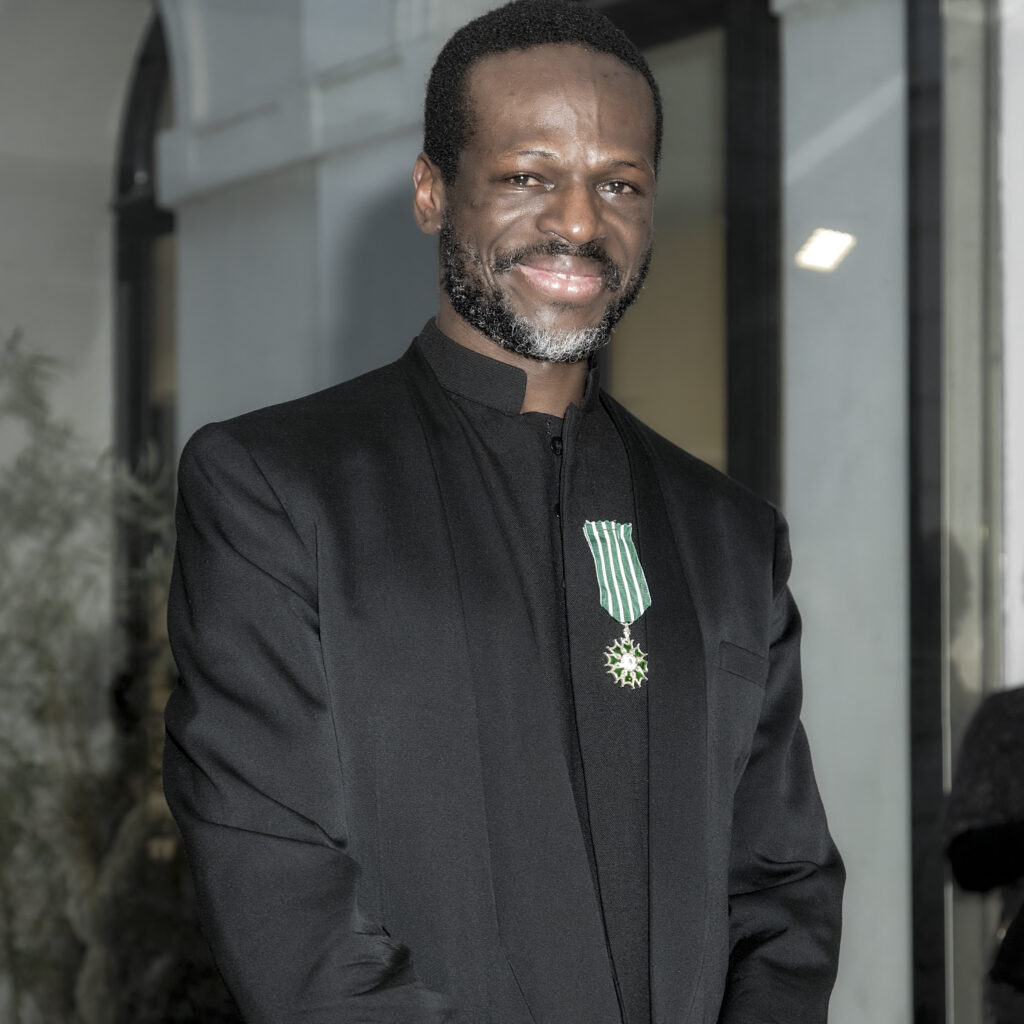 Saab was not alone. Lebanese countrymen stepped up to the plate to raise the temporary of the catwalks of Paris. Names like Zuhair Murad, Georges Hobeika and Georges Chakra were the other leaders from Lebanon, who took their chances in Paris. Together, they simultaneously put Lebanese couture on the world map and glamorized women everywhere. Top actresses from Hollywood to Shanghai all clamored to be dressed by them. Their fame led others over the years to follow in their footsteps. Among them are names such Tony Ward, Dany Atrache and Rami Kadi.  
Later we saw the arrival of Rami al Ali. He is the first Syrian-born designer to present couture in Paris. And despite receiving such compliments as being called "perhaps the most obviously talented and skilled draper since Emmanuel Ungaro!", he like Atrache, Kadi and Ward have still seemingly gone unnoticed by the governing body and its members. 
After the installation of new leadership at the Chambre Syndicale de la Haute Couture around 2015, fresh winds began to air out the old, musty organization. Opening the calendar to more diverse names seem to become an unexpected leitmotif there. Not only were Zuhair Murad and Georges Hobeika finally admitted to the list in the second decade of the new millennium, but other young, fresh, exciting names like the Alexandre Vauthier, Julien Fournié, Ralph & Russo and Dice Kayek, would all be invited to the official calendar over the years. And familiar names such as Christophe Josse, Schiaparelli and Atelier Versace each made their comeback to the calendar after years or even decades of absence! 
Throughout all these epic changes, Imane Ayissi was present in Paris.  He watched closely, dreaming of the day his chance would come as he quietly created his designs and showcased them around France, Europe and Africa.  He observed patiently as Chinese superstar Guo Pei, along with Yuima Nakazato of Japan, Maison Rabih Kayrouz (Lebanon) and Ulyana Sergeenko of Russia each got their chance to join the calendar.
With all these beautiful additions, one could only notice the remarkable lack of representation from two of the world's largest geographical zones: Africa and India. But with new blood at the Chambre Sydicale, that change would not be too long in coming. 
In January 2020, both Rahul Mishra of India the Cameroon-born Ayissi made history as the first couturiers from their respective countries to walk through the doors of the haute couture establishment. Each has a style of his own. Each infuses his work with the cultural heritage of ornamentations and fabric making. And each puts storytelling at the center of each carefully crafted silhouette. Since that time, the Cameroonian has continued to accept his new destiny with the same humility and grace for which has been admired over the years. 
"My goodness!", one may opine. "How things have really changed in the ultra-exclusive, elite and closed circles of Paris's haute couture institutions". And one would be right to do. Changes that were thought impossible still in the early 2000's have given way to social evolutions and to notion that beauty and couture culture lie "elsewhere". 
Imane Ayissi receiving his knighthood honors from the hand of Pascal Morand – Executive President at the Chambre Syndicale de la Haute Couture – seems to have finally brought diversity full circle in the world of haute couture after the first steps by Abraham Pelham 25 years ago to open it to African couturiers.