A Sustainable Fashion Movement is afoot in the prisons of Milan, where designer fashions are fueling a new lease on life for minority women.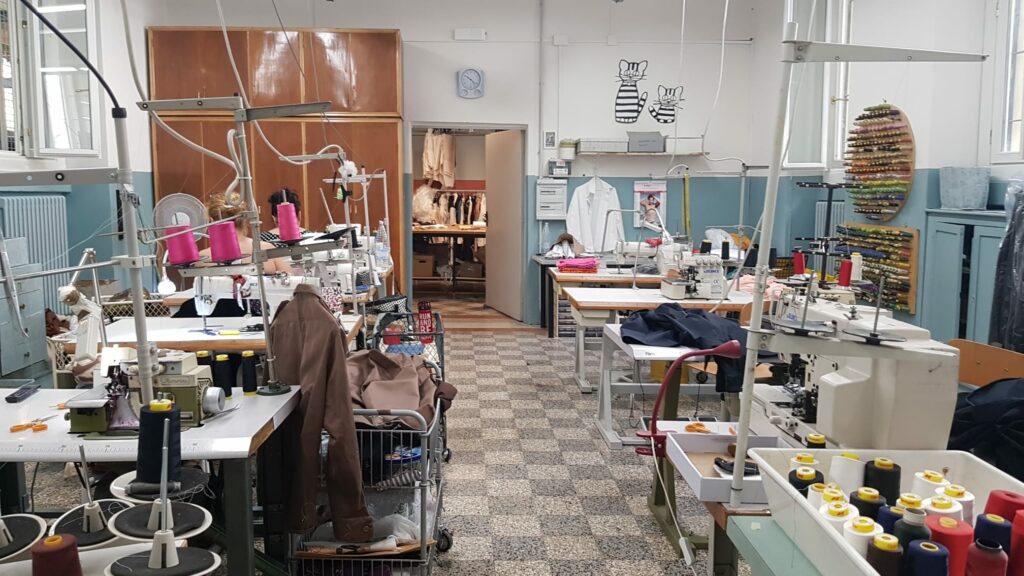 It's 10 am on a rainy morning on the Southern outskirts of Milan and the aroma of the morning coffee still lingers in the air. Iconic Italian singer Pino Daniele is playing on the radio, and the clicking of sewing machines is drowned out by the sound of lively chatty laughter, as a group of women, most of whom hail from minority backgrounds, craft upcycled clothing for some of the biggest names in fashion… Giorgio Armani, Chloe, just to name a few.
What sets the Alice Cooperative workshop apart from any other is that there is one thing that is kept sacred and that's the past, which is to be protected and rarely spoken of. Most of the females who work there call the nearby prison their home or have recently been released and have been able to turn their life around and find full-time jobs beyond the prison system.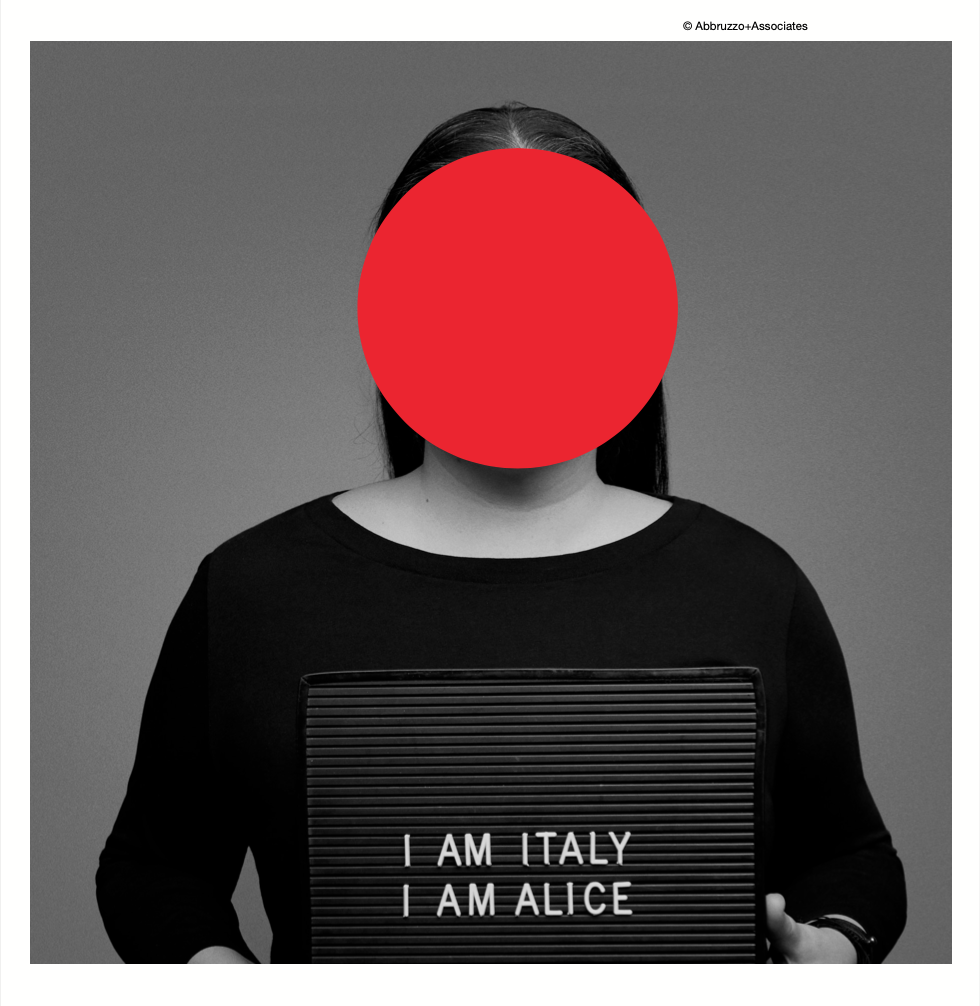 A re-birth, their founder likes to call it, nurtured by an eco-system that operates like a family, for as long they're all there. And there is data to back it all up.
In Italy, recidivism or the tendency of a convicted criminal to reoffend is about 68 percent, according to the nation's justice department. That means out of every ten individuals released from prison about seven of them will go on to commit a crime. When a prisoner is employed whilst in prison, that number is reduced to only two.
"Our own results here at Alice are even better. According to the data in our possession, of the women admitted into this project only three in 100 will return to crime," Caterina Micolano, the cooperative's founder and president, noting most of the participants hail from ethnic minority groups.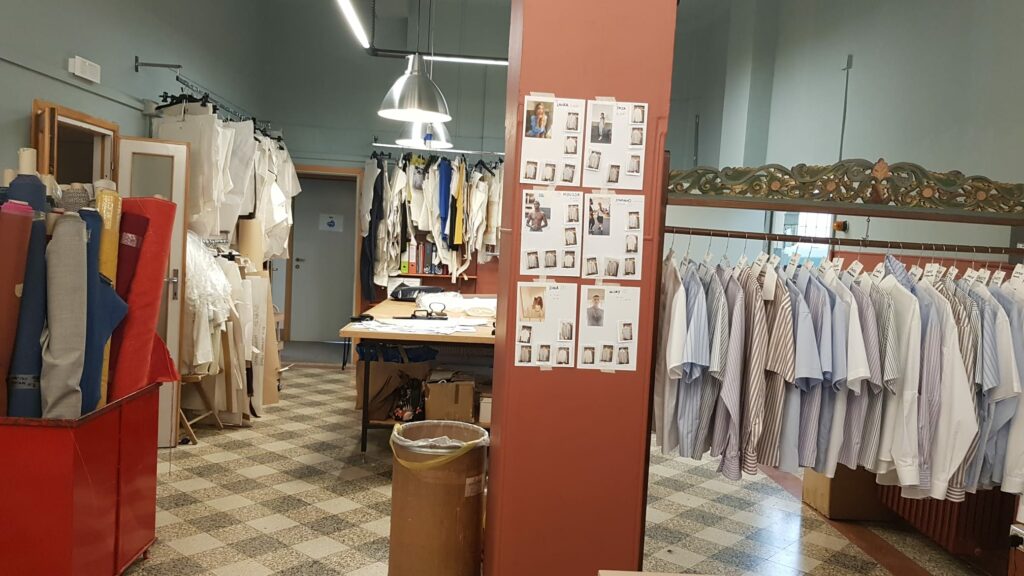 Out of eight women in the workshop only one was Italian, calling to mind the prison system in the US, where Black Americans are incarcerated in state prisons at nearly five times the rate of white Americans due to socio-economic hurdles and a culture that perpetuates systemic racism.
"Three recurrent explanations for racial disparities emerge from dozens of studies on the topic: a painful and enduring legacy of racial subordination, biased policies and practices that create or exacerbate disparities, and structural disadvantages that perpetuate disparities," Washington, D.C.-based Sentencing project said in a recent report.
Active since 1992, the Alice Social Cooperative started out with only a total of eight seamstresses invited to cut their teeth crafting theatrical costumery for the La Scala opera house productions. Today, the organisation fully re-invests the profits deriving from its work in training and work inclusion courses to fight the recidivism of crime and restore dignity to people, and educate society on social sustainability.
As time goes by skills are ever more refined but the guilt never fades, explains Micolano, taking us on a tour that includes a cozy kitchen and a garden dining area, where everyone, even the administrators take turns making lunch for everyone. The day before, she notes, an inmate from Uruguay made empanadas.
Two decades after it was founded, the non-profit workshop is now located in three Northern Italian prisons; Monza, Bollate and Milan's San Vittore, the same prison former Gucci heiress Patrizia Reggiani called home following the murder she commissioned of her ex-husband Maurizio Gucci.
One of their most recent projects is the social-impact label of sustainable turbans and headbands called AMA Soul (which stands for ask me anything) is a metaphor for camaraderie and the sort of mental support necessary in confronting the various sorts of trauma, loss of a job or a loved one or dealing with an illness. "I've been wearing a turban consistently for ten years, so it was the right time," says Italian-Egyptian entrepreneur Helen Nonini, the brand's founder.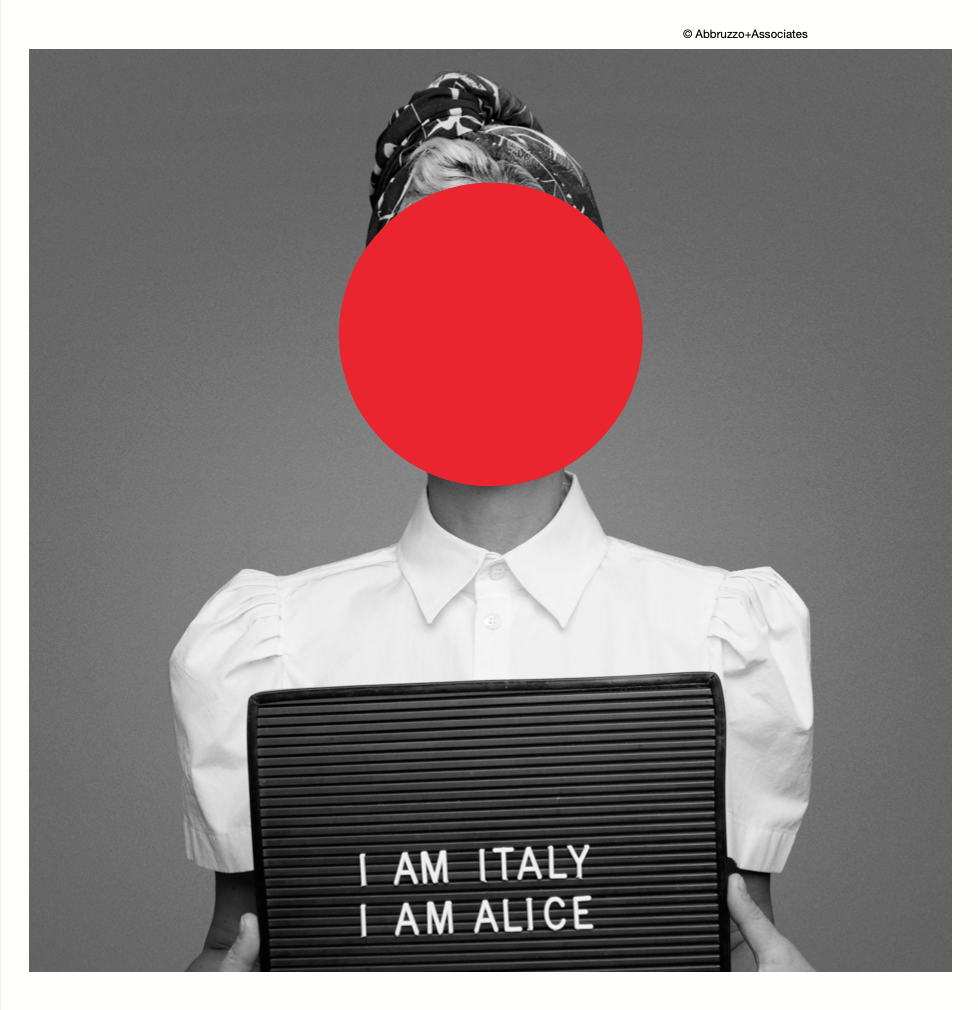 Nonini's approach to the brand makes AMA Soul a sustainable company both from an environmental and human point of view because it uses only existing fabrics and empowers women to find their way back into society.
"Justice, in my opinion, is not about judging others. It's up to us to help those in difficulty or those who have made mistakes to be able to build a new life," she adds.
This success is linked to the fact that individuals are eventually hired by fashion houses under contracts that are in-line with the trade union standards — contracts Caterina adds,  that are extremely hard to find in the fashion and textile arenas. They are therefore fully integrated into the workforce from the first day of recruitment, trained to meet the world's highest production standards, and incorporate methods that respect the environment.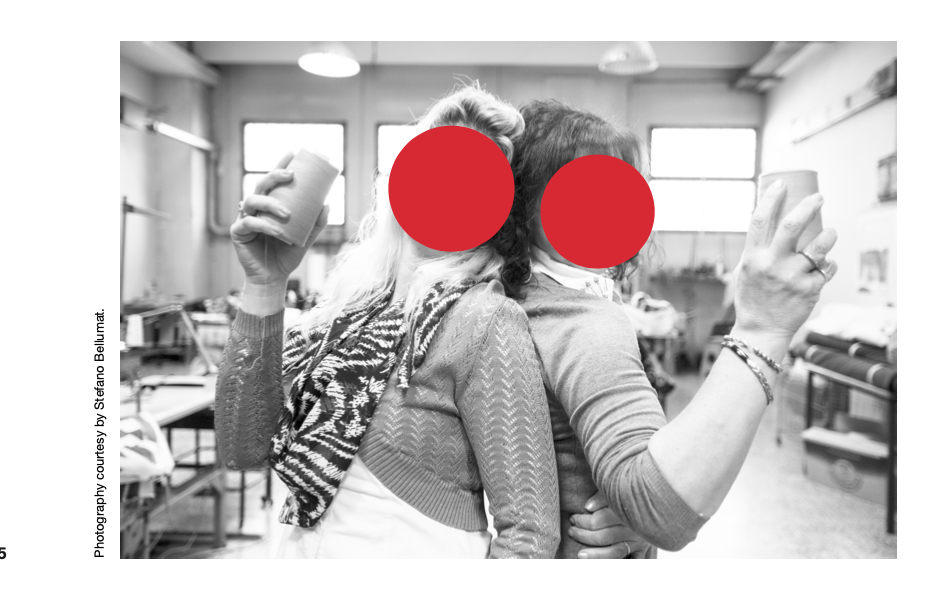 "We convince the vast majority of them that a different future is possible."
On average, a person employed by Alice Cooperative for 38 hours a week earns a net salary of about 1250 euros per month. This salary includes holidays, an extra 13th month and social security contributions as per law. That compares with 2,333 euros per month, according to an average of salaries across the board between 2000 and 2019, according to Statista.
While prison-based social-impact programs like Made in Jail of Rome's Rebibbia prison have been praised on a global level, non-profit groups are still battling the exploitation of minority groups and tokenism worldwide.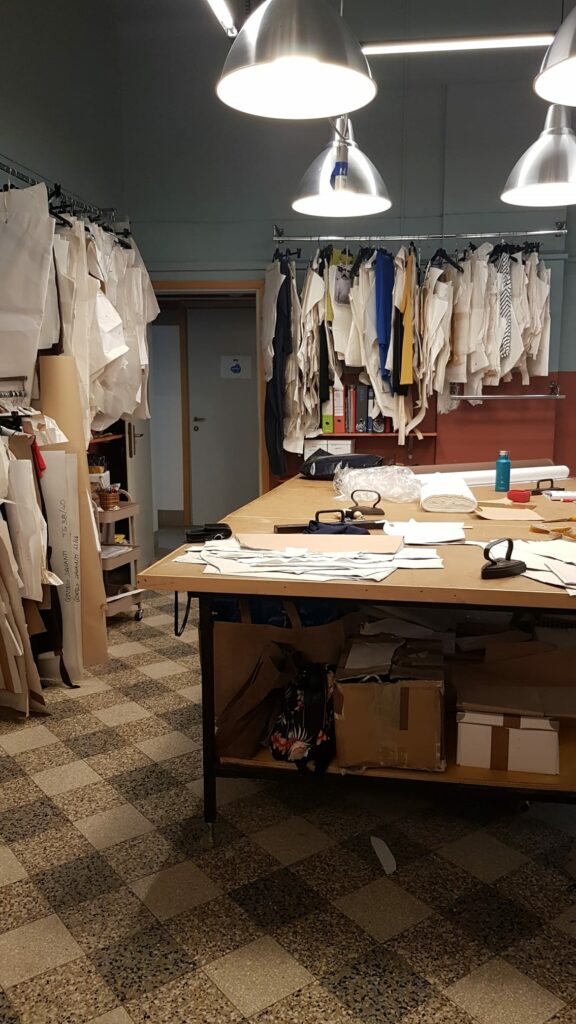 In 2019, Danish brand Carcel was criticized for the promotion of their silk that was made by women incarcerated at the Chang Mai prison in Thailand where inmates were reportedly only paid 320 baht per day, roughly 9 euros.
And while we explore this facet of ethical employment as a pillar of the sustainable fashion movement, there is still a lot of work to be done across the board.  According to a 2019 report by the European Prison Observatory, fewer than a third of all prisoners work, many often for a limited number of hours and in unskilled jobs.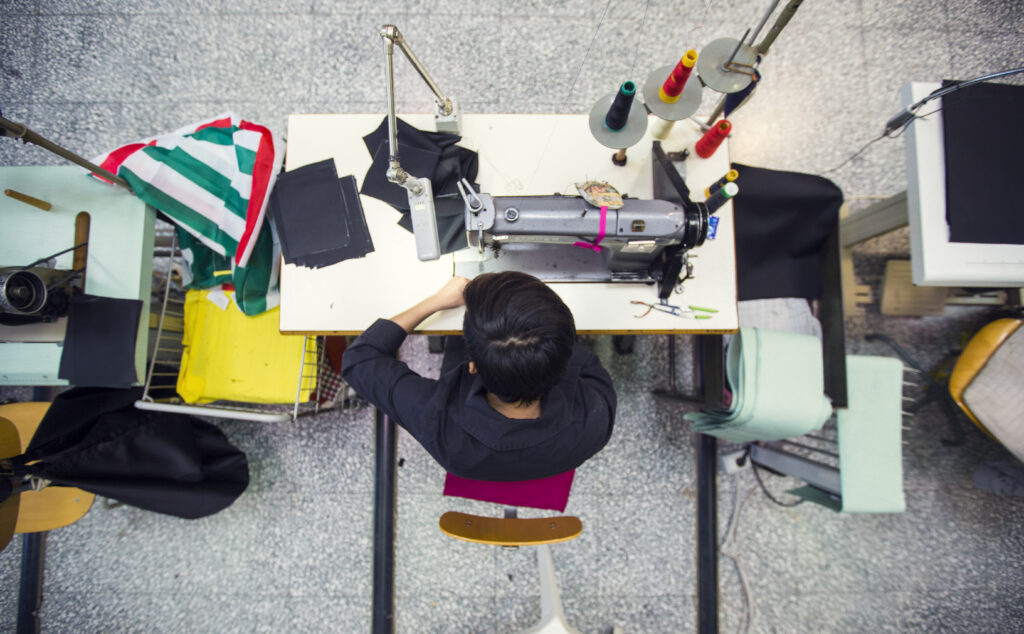 Helen, a Milan-based fashion maven with a pulse on up-and-coming brands, agrees that no other sector has more power than the fashion industry in fueling this trend.  "In my own small way, I hope to be able to raise awareness about mental health and to show people that seeking help is an act of courage, not weakness."