Floating down from an azure sky with all the grace of being clicked, dragged and jolted across the screen came The Fabricant x "Ruby 9100m" dress 'The Empress of the Metaverse'. Its Victorian petticoat fabric billowed behind it and swirling silver antlers stood up over each shoulder. When the avatar landed on the white Airfix marble staircase the dress shed its plumage, a helium-balloon handbag floated off, and a confetti cannon of pink, yellow and blue blobs flowered around it.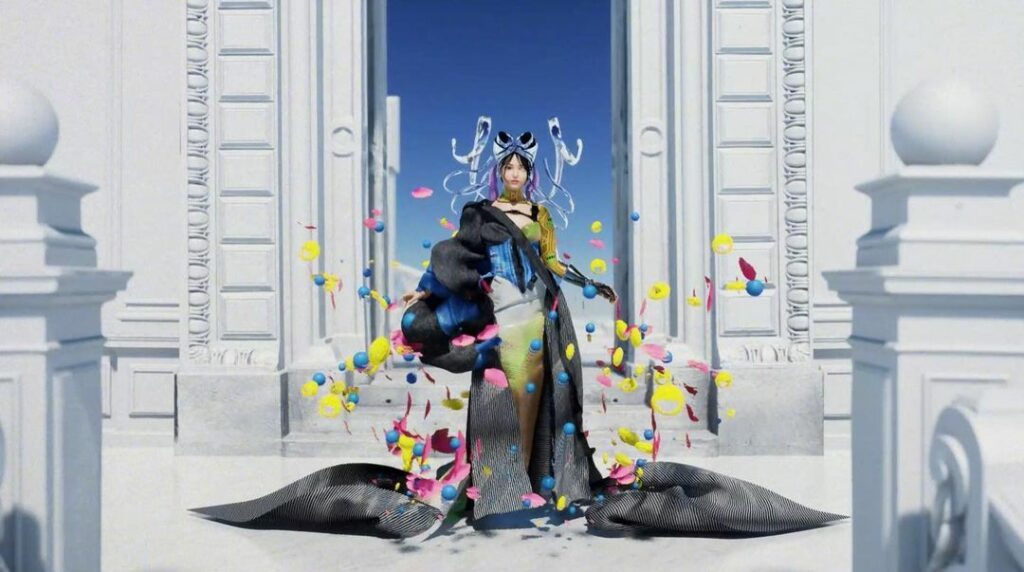 The dress is wild. The fact that it was sold for three Ethereum equivalent to roughly £7000, is wild. The fact that the dress appeared at something called the 'Meta Gala', itself, part of a wider Crypto Fashion Week, is wild. But had we seen this all before? Somewhere much more earthly. 
In an interview with HIGHSNOBIETY, Seth Haak, art director at Riot Games and previous art lead on the League of Legends skins team, admits his skins designs are inspired by the large, expansive designs of the Met gala. Might the Met gala be the perfect porthole to understand skins in this Brave New Online World? If we ignore the lack of gravity, materials, expense, supply chains, human bodies, and physicality; then, we see that the ethos and ideals of the metaverse are similar.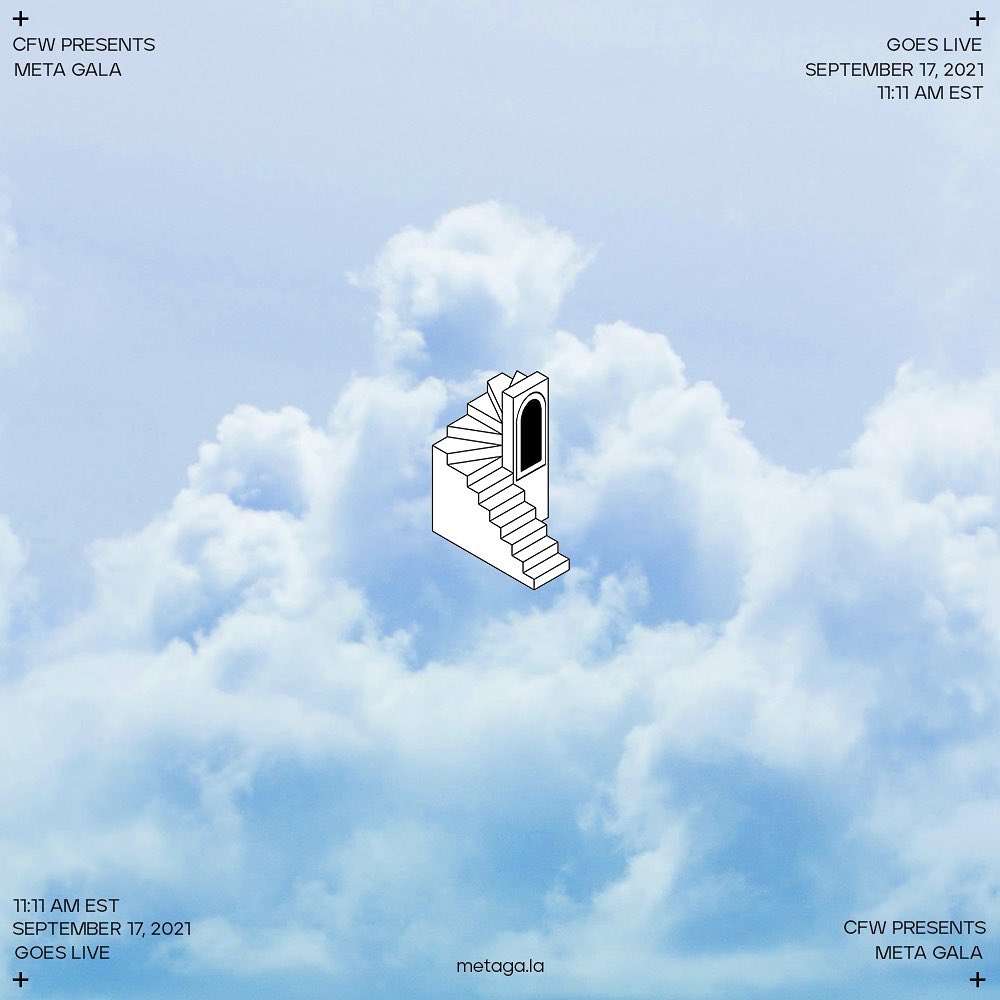 The Met Gala is an annual fundraising event held in the Metropolitan Museum of Art and has been going since 1946 (sometimes under the name Costume Institute gala). It is a congregation of the fashion elite. This haute-couture event is known for dissolving creative limits, social boundaries, conformities, and constraints, all done with panache. This makes it a rich and fertile land for the conceptual end of fashion to blossom. Theatre producer Jordan Roth says in an interview with Vogue France: 
"So often our identities feel like they are essential facts about ourselves, as opposed to things that we take on, and in some cases, things that are projected on us by others that ultimately kind of fuse and feel as though that is who or what [we are]. And I'm very interested in the notion that…when I begin to allow for the possibility that that might not be true, I begin to see how we might wear this thing we call identity more loosely, and perhaps even shed it or change it, or relate to it as we might a piece of clothing that is expressive of who I am, but is not who I am."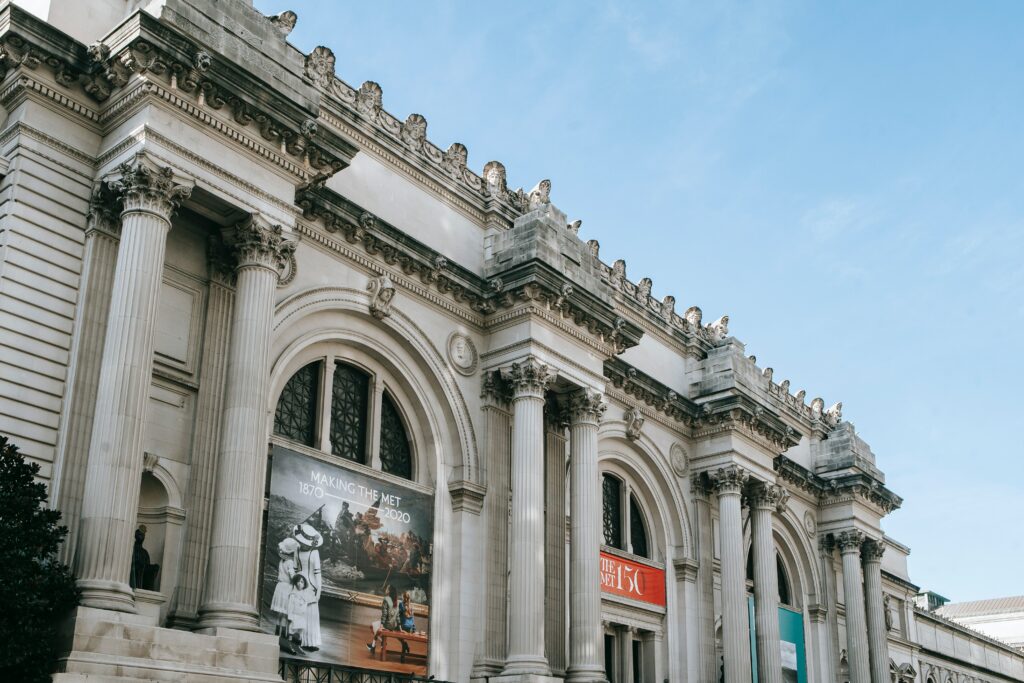 At the Met Gala, gender expectations are loosened. Harry Styles in a Gucci sheer lace top and dangly pearl earring; Michael Urie in a half-suit, half-pink dress; and Pete Davidson's Thom Browne chic man-gran look. These are all examples of subverting the stifling role that clothes have in forcing us to conform. If anyone embodied this in totality it was Billy Porter, dressed as a golden-winged Pharaoh carried in on a cushioned bed. He took the "camp" theme and became the word itself.  "You may go in [to the Metaverse] and say, 'we want it to look just like my real-world self,' or maybe you want it to be completely different," says Roblox's vice president of global brand partnerships, Christina Wootton. She says there's less anxiety about identity in the metaverse because people are more open. While this has pangs of 90s Internet utopianism about it (we shall see about the reality), Wootton describes a figurative space that carries the principles that the Met gala—fully liberated expression.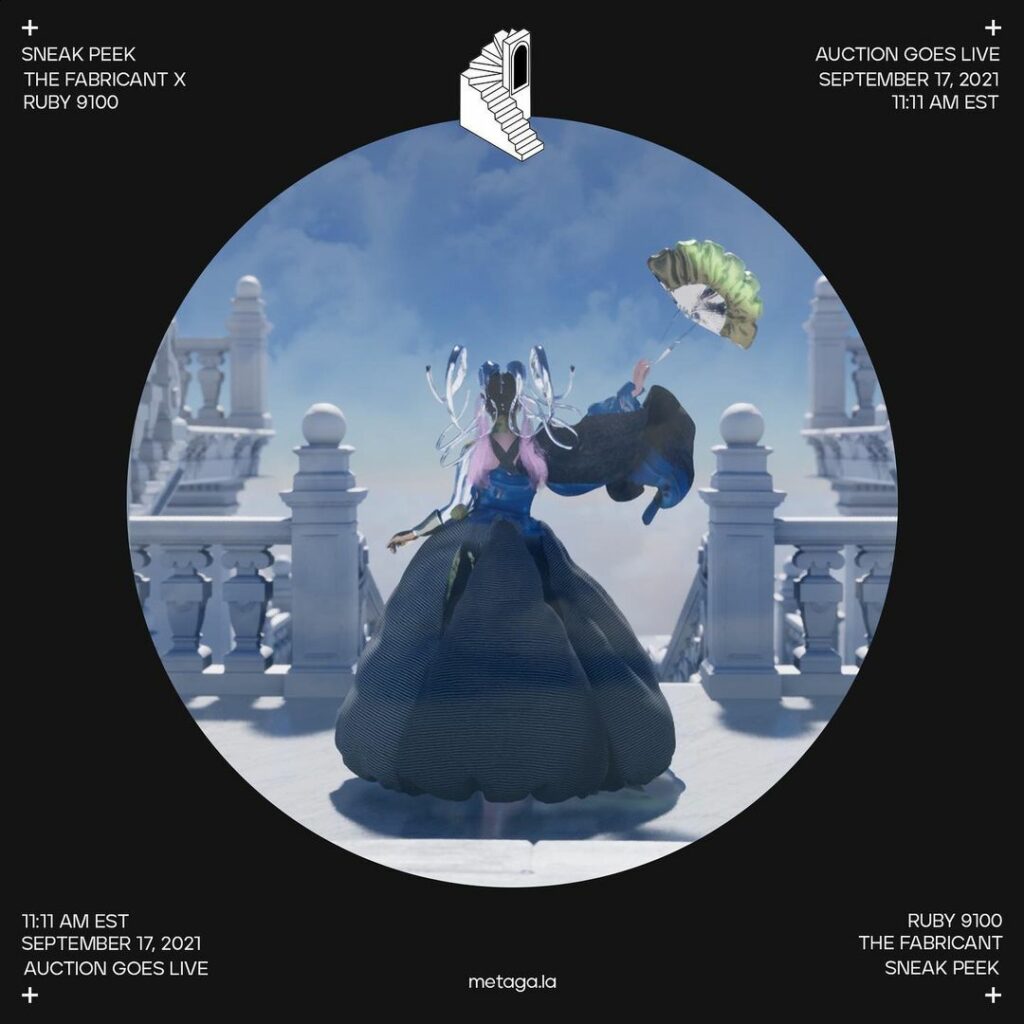 While this loosening of gender identity at The Met Gala might be a positive progression, the loosening of racial identity in the Metaverse is complex. Identity might not be something that people want to "shed", or change, and perhaps to do so would seem like an act of erasure. And while the diverse representation at The Met gala has been positive in recent years, it was telling that Lewis Hamilton in 2021 made sure that Black designers were also celebrated by giving them a table, surely suggesting institutional neglect at the design level. The question of BIPOC identity and the prevalence of BIPOC designers/thinkers/operators in the Metaverse also are topics that we require more space and time to dig into. So, stay tuned.
Now, for the meta gala to reference the Met gala isn't exactly mind-blowing; it's been the original for 75 years. 'The Empress of The Metaverse' clearly references Lil Nas X's 2021 Versace three-piece, which he peeled off layer by layer. Or, Lady Gaga's four outfits in 2019. There was also a bejeweled face stocking at the meta gala, which Tatler writer Harriet Kean suggested didn't look too far from Kim K's Balenciaga full black fabric ballgown. But, GQ noted how Twitter thought it looked like an unlocked character in a game. This is perhaps unintentional from Balenciaga, but might it point to how that very large ship known as Cultural Influence is already clumsily turning around?
Lucy Maguire of Vogue Business argues how the metaverse is beginning to influence real life. She writes of how MA Central Saint Martins students "prioritising physical garments inspired by the virtual world, with 'very crazy, very dark shapes and colours' akin to gaming skins." Maguire references Ian Rogers, chief experience officer of crypto-technology company Ledger, who notes people are walking around with their crypto pink NFT on their t-shirts. "It makes perfect sense," he says: "It's identity building." Then, consider the rise of 3D design that makes the directional influence from digital to physical, a logical one. If you render digital clothing for real fabrics, why not just release it on the metaverse?
Digital is becoming physical is become digital is becoming… blurred. So, looking at this week's Met gala.. ask yourself, —is this the future aesthetic of digital clothing? Or, is it in the metaverse already?
The Met Gala 2022 took place on May 2nd at the Metropolitan Museum of Art. This year's theme was "In America: An Anthology of Fashion".